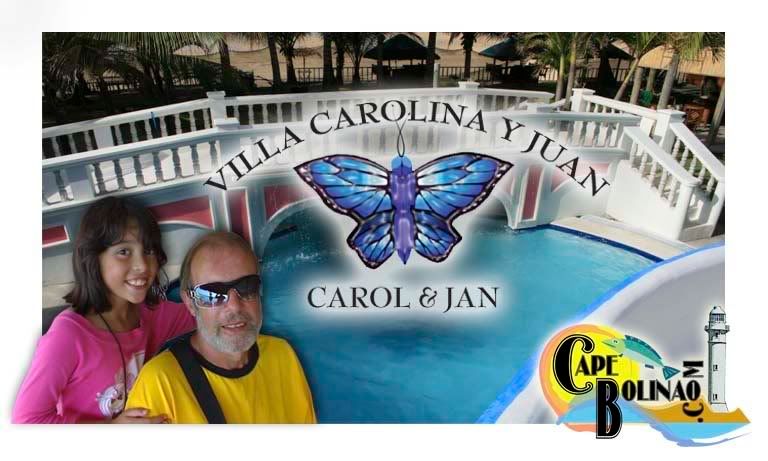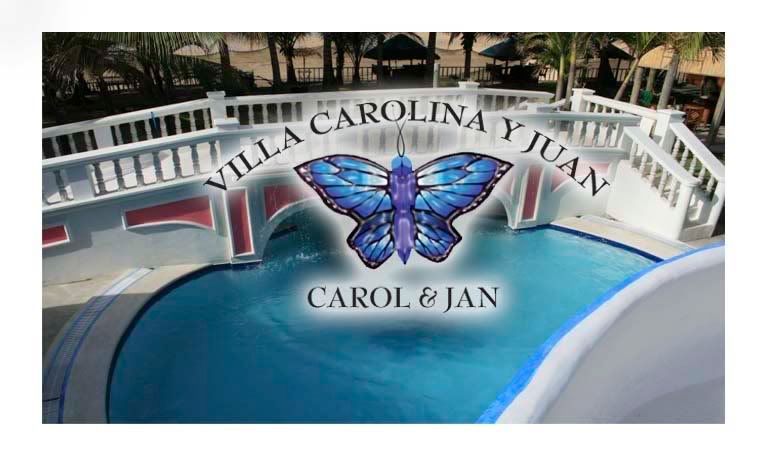 Away from suffocating crowds, traffic or stress... Where the seabreeze and the palm trees whisper or roar... This is the land of Bolinao, famous for it's efforts against pollution. Where the coral reefs are getting restored and the rivers are clean...
Being small in size, compared to the surrounding resorts, this family business tends to reach the heart of the visitor by expanding in intrensic values.
Whether you like trolling tuna, sailing a banka in the sea, rowing in the river at no charge, snorkeling behind the protecting reef (under restrictions imposed by the surf), relaxing in our jacuzzi or swimming around the falls, exploring the number one cleanest river in the Philippines, buy your own fresh seafood to prepare your meal in the resort at no corkage... we make it all possible for you...
Rooms & Rates
Room High season Low season Notes
Bungalow
Php 6,000-10,000
negotiable
8-16 persons - aircon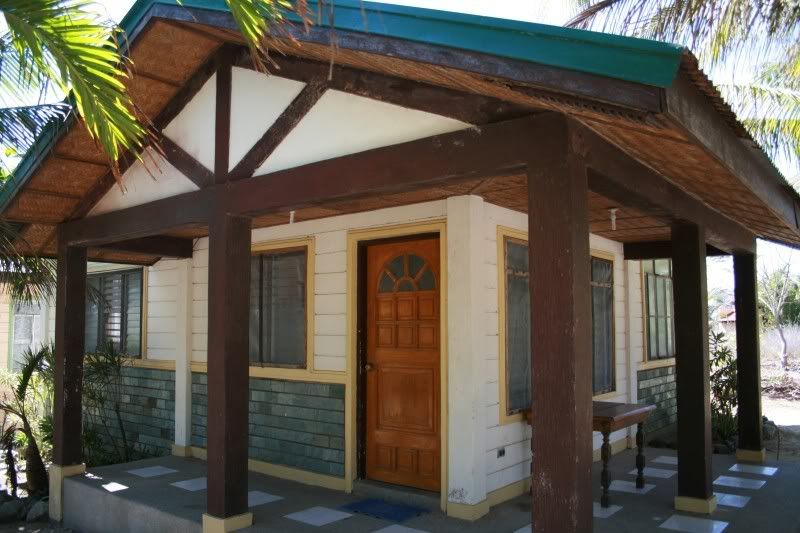 Duplex Php 5,000-6,000 negotiable 8 -10 persons - aircon
Small Kubo Php 3,000-3,500 negotiable 2 - 4 persons - aircon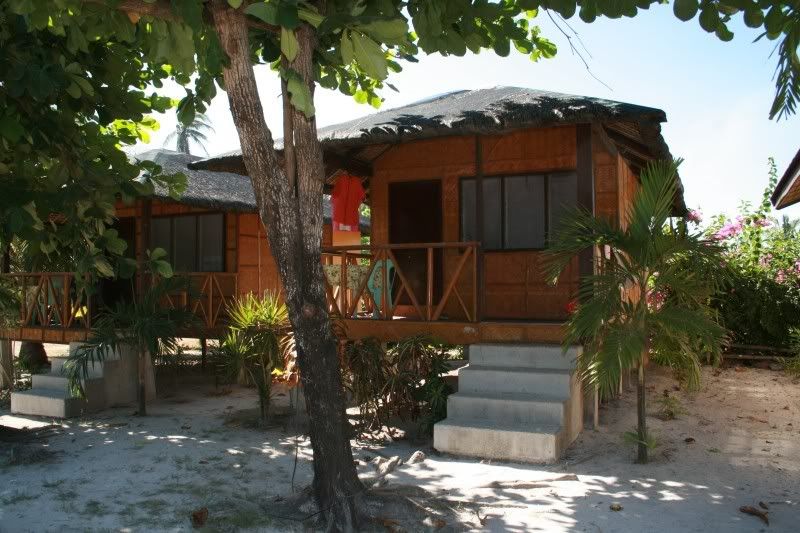 Big Kubo Php 3,000-3,500 negotiable 4 - 8 persons - fan
Kabana Php 3,000-3,500 negotiable 4 - 8 persons - fan
Small Room Php 2,000-2,500 negotiable 4 persons - fan
Big Room Php 3,000-3,500 negotiable 8 persons - fan
Beach Cottage Php 500 Php 500 max 10 persons
Swimming pool rates: are free for guests hiring a room. Guests without room pay Php 200 per person and are obliged to rent a beach cottage for their belongings.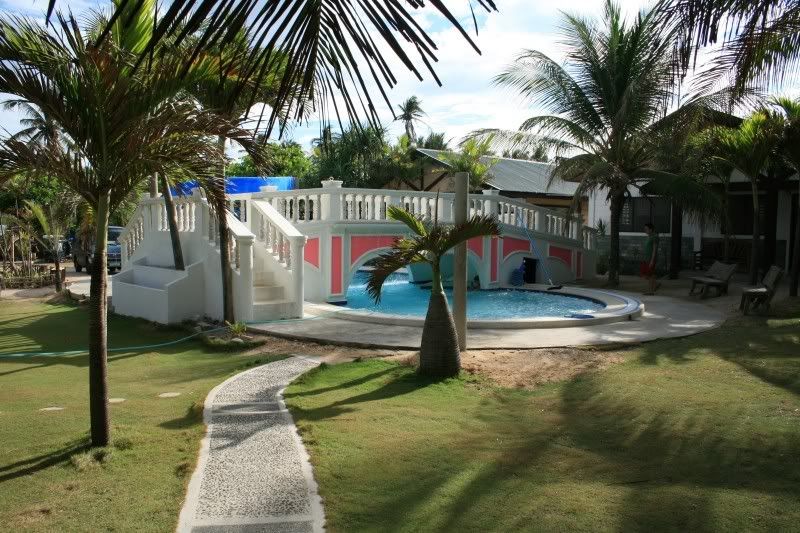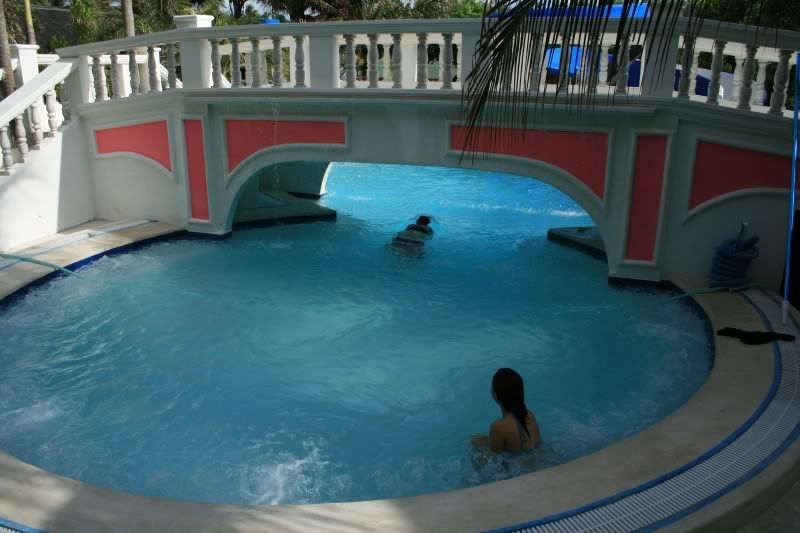 Food and drinks are allowed in the beach resort at no extra charge. Therefore we have an additional kitchen for rent at very low price. We provide barbeques and assistance from our staff to help you cook.
But also, we can cook for you to order. Orders are best placed the day before. Bolinao is known for it's fresh fish and seafood. Every morning our staff gets it in the local market. We invite you to come with us!
Two Karaoke machines are available at Php 5 per song
For the kids there is a video game machine.
There is free use of our trycicle (if you have no other transportation). All we ask is: refill the tank after use and give a small tip to the driver.
Billiard table is free for use
The use of the motor banka will be charged at Php 900 per half day and Php 1,200 per day)The motor banka (16 HP ) can be used for fishing, sightseeing...we can even bring you to Hundred Islands. Our boat has a capacity of 6 pax only, and the way to 100 Islands is far, though worth the trip as a lot of sightseeing is done during the passage. If our boat would not suit you, there is an option of arranging a boat with sufficient capacity in Bolinao harbour. Another possibility is, driving with the car from Villa Carolina to Lucap (in Alaminos) and hire a boat there (very close to 100 Islands). The trip from Villa Carolina to Lucap should take a little more than one hour.
Rowing banka and canoe are free for use in the river or for rowing between high water line and breakwater.
Possibility of body massage - please request a few hours before massage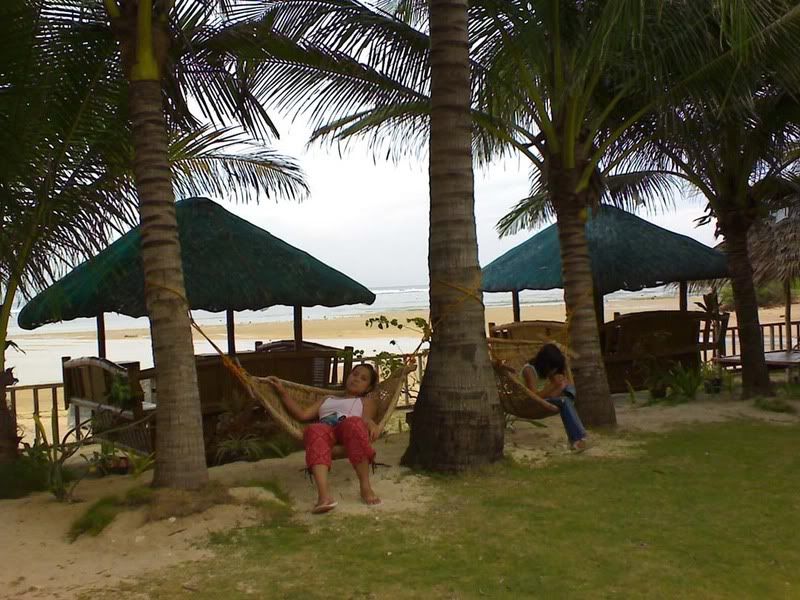 Location
Our beach resort is situated between the bigger resorts Punta Riviera and Puerto del Sol at barangay Ilog Malino - Bolinao - Pangasinan - Philippines.
Driving Directions
A few hundred meters before entering town proper of Bolinao turn left. There is a signboard indicating "various beach resorts"
from Angeles City: direction Tarlac - Alaminos - Bani - Bolinao
from Manila: direction Tarlac - Alaminos - Bani - Bolinao
If you wish to take public transport try the Five Star and Victory Liner bus companies. These travel from Manila to Bolinao either from Pasay bus station near the airport or Cubao (Edsa). The fare is about Php 300 for a non aircon bus and Php 400 for an aircon bus. Other companies are : City Trans, Philippine Rabbit, Dagupan bus liner, Bolinao transit and Philippine Rapid.
Five Star Bus 12 Bolinao-Pasay City vice versa Tel # 833 8339, 833 3009
Dagupan Bus 6 Bolinao-Quezon City vice versa
Victory Liner 5 Bolinao-Quezon City vice versa
Philippine Rabbit 2 Bolinao-Manila Tel # 734-9838, 734-9836
Bolinao Transit Express 5 Bolinao-Dagupan vice versa
City Trans (Manila to Dagupan & Bolinao)
Reservations - Inquiries
Please call or E-mail :
Carol + 63 (0)921 - 698 - 3340/ carol_pore@yahoo.com
Lui + 63 (0)927 - 336 - 2827 / luisito_ore@yahoo.com
or:
+ 63 (0)75 - 696 - 0665